Subtract it from the uncovered elements.
Add it at the point of intersection of lines.
Leave the rest as is
Prepare a new table.
Repeat steps 3 to 7 till optimum assignment is obtained.
Repeat step 5 to 7 till number of allocation= number of rows.
Unbalanced Assignment Problem:- where the number of the rows is not equal to the number of columns and vice versa . For example – the number of machines may be more than the number of jobs or the number of jobs may be more than the number of machines. In such a situation, you have to introduce dummy rows or column in the matrix. The dummy row column will contain all cost elements as zero. This balances the program and then we can use Hungarian method to find the optimal assignment.
Unbalnced assignment problem: No. Of rows ≠ NO. Of columns.
Q.5
a. Write a short note on Monte Carlo Simulation.
b. A Company produces 150 cars. But the production rate varies with the distribution.
At present the track will hold 150 cars. Using the following random numbers determine the average number of cars waiting for shipment in the company and average number of empty space in the truck. Random Numbers 82, 54, 50, 96, 85, 34, 30, 02, 64, 47?
Ans :-
A)Monti Carlo simulation is a simulation technique in which statistical distribution function are created by using a series of random numbers . This approach has the ability to develop many months or years of data in a matter of few minutes on a digital computer. This method is generally used to solve the problems that cannot be adequately represented by mathematical models or where solution of the model is not possible by analytical method.
B)
Solution: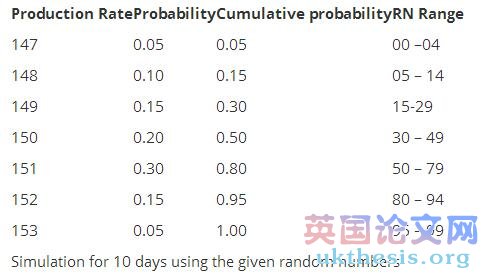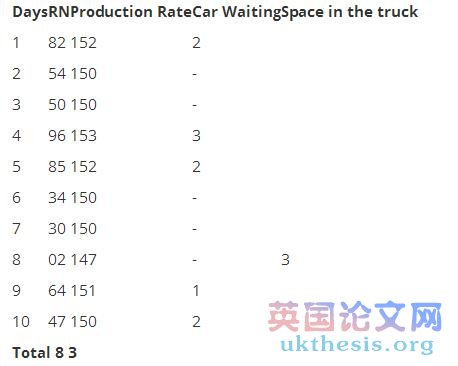 Therefore, Avg number of cars waiting =8/10= 0.8 /day
Avg number of empty space =3/10= 0.3/day
Q.6 a. Explain the dominance principle in game theory.
b. Describe the Constituents of a Queuing System.
c. Differentiate between PERT and CPM. ?
Ans
a. Dominance principle in game theory:- In a rectangular game ,
- In the pay-off matrix, if each pay-off in Rth row is greater than( or equal) the corresponding pay-off in the sth row, Ar dominates As .(责任编辑:BUG)