Introduction 简介


随着全球经济的快速发展,也有越来越多的人进入城市,这已引起了交通拥堵(甜,2011年)。 pucheret Al(2005)指出,一些城市,尤其是在发展中国家如印度,道路通畅率下降了公众的出行需求,由于人口增长和城市化背后的整体。据印度(2002年)的时代发表的一份报告,平均行车速度在德里在1997年22〜27公里/小时相比下降至15公里/小时,2002年。此外,在德里的高峰时段已经上升到5小时(8.30 - 上午10:30和4.30 - 7.30时三十分)因此,新德里已经从塞车之苦了很久。

虽然印度私人车总量经历了一次重大的飞跃,因为收入低,居民主要依靠公共交通工具,电动三轮车、摩托车甚至徒步(Tiwari,2002)。由于道路狭窄,混合和各种车型,重新设计的扩大将路径的道路可能是一个可行的和有效的选择,但这将是一个巨大的投资,它会影响环境。另一种选择是增加公共交通的数目和配制之前总线来提高通信速度。尽管成本似乎是合理的事实,它也有上的有效性和环境的限制。


With the rapid development of the global economy,there are an increasing number of people move into the city, which has caused the traffic congestion (Sweet, 2011). Pucheret al (2005) point out that a number of cities, especially in developing countries such as Delhi,the road patency rate has fallen behind public's travel demand due tothe overall population growth and the urbanization. According to a report published by the Times of India (2002), the average traffic speed decreased to 15 km/h in 2002 compared with 22-27 km/h in 1997 at Delhi. In addition, the peak hour in Delhi has risen to 5 hours (8.30 – 10.30 a.m. and 4.30 – 7.30 p.m.).Hence, Delhi has been suffering from the traffic congestion for a long time.

Although the total amount of private carsin Delhi has experienced a significant leap, because of the low incomes, the residents mainly rely on the public transports, auto rickshaws, motorcycles and even pedestrianism(Tiwari, 2002). Due to thenarrow, mixed roads and the various vehicle types, redesigning the road to expand and divide the path could be a viable and effective option but it would be a huge investment and it may impact the environment. Another option is increasing the number of the public transportations and formulating the prior bus lines to improve the traffic speed. Despite the fact that the cost seems to be reasonable, it also has limitation on the effectiveness and environment.

Therefore, the aim of this report is to compare the feasibility of road reconstruction and priority bus lines in three aspects: cost, effectiveness and environment, and will suggest the road reconstruction as the more appropriate option to solve the traffic congestion issue in Delhi.

#p#分页标题#e#

The two options presented above will be analyzed in terms of three following requirements:


Cost

Cost may always be taken into account when considering the solutions to the traffic congestion. People will not be willing to pay for the congestion if the congestion charging does not release the traffic. Despite the fact that the congestion price rises slightly from 2003 to 2006 (Murray, 2012:2), it is still regarded as effective since the traffic speed increases at 6% in 2012.

Effectiveness

Effectiveness is a very essential requirement to measure if the option is available.

Environment

The environmental effects may be another vital factor for people to measure the technique, since the environment is directly related to people's health; according to CIA (2013), Delhi has suffered from the air pollution for a long time, especially by nitrogen dioxide (NO2) and particulate matter (PM) (Cowie et al, 2012:2199), which may cause diseases.

Increasing congestion charge

Increasing congestion charge is likely to be a relatively cheap technique due to the fact that congestion charging has been set in Delhi from 2003. However, costs may rise because of the cost incurred by setting more video cameras at the entry point of charging zone (Leape, 2006:163). According to Table 1, congestion charge program seems to bring annualized revenue of £160 million except the total costs which can be attributed to improve public transportation.

Table 1 Congestion Charging Program Projected Costs and Revenues

Source: Litman (2011:5)

Congestion charge has risen from £5 in 2003 to £8 in 2005, and now the charge is £10, which leads to a decline in traffic volume in London (Figure 1). Furthermore, traffic speed rises at every time congestion charge rises.Therefore, it seems to be effective that increasing congestion charge may release traffic congestion in Delhi in short term.

Figure 1 All Motor Vehicle Traffic on London's Major Roads, 1993 to 2010

Restrictions on car-driving
Introducing driving restriction policy into London seems to be a low-cost method; congestion charging has been set in London for about a decade, so infrastructure of video camera at roads' corner are quite complete. According to Min and Yagang (2010:50), traffic geographic information system (GIS) is used in Beijing to express data, such as traffic flow, speed and occupancy ratios. Figure 2 shows the process of traffic data collection.
Moreover, traffic restriction seems to be effective since there is a decrease by 15.68% in cars on roads after restriction (Liu, 2008:67). Restriction on car-driving may even make people turn to public transport at least once a week.#p#分页标题#e#
Social acceptance
Increasing congestion charge
Public acceptance is the key to the success of congestion charging since people are supposed to be responsible for congestion payment. According to Jones (2003:30), people seem to regard the pricing method of obtaining public transportation appropriate but be less willing to pay for traffic congestion and growth. As Figure 3 shows, only 5% of respondents hold the view that congestion charging is the most effective way to alleviate traffic congestion.
Figure 3 The Most Effective Solution for Reducing London's Traffic levels
Source: Jones (2003:34)
However, if the net revenue will be spent on improving public transport, people are more likely to accept congestion pricing (Jones, 2003:36). Survey in London presents that there are more 20% (from 43% to 63%) of respondents accepting congestion pricing if the revenue of congestion charging is spent in public transport (ibid: 37). Therefore, increasing congestion charge may obtain more support if net revenue of charging is used on public transportation improvements.
5.2.2 Restrictions on car-driving
The biggest difference between Beijing and London is that a large number of residents in Beijing depend on walking and bikes while the most common mode in London is cars (Zhang and Gao, 2008). According to Table 3, before the traffic restriction, people in Beijing are quite satisfied with public transport but the rate of dissatisfaction towards traffic flow is higher than others.
Table 3 Traffic Satisfaction in Beijing in 2005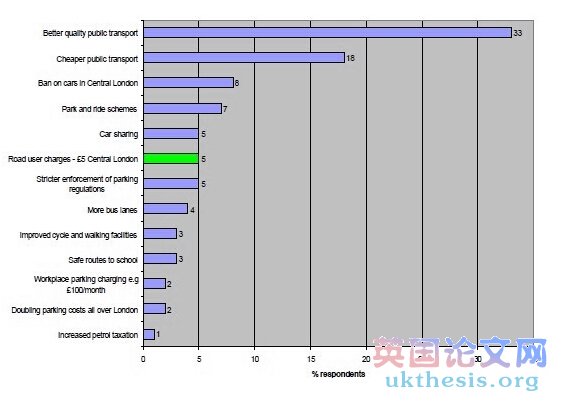 Source: Zhang and Gao (2008)
However, traffic restriction in Beijing may lead to about 800,000 cars off everyday, which may possibly smooth the traffic and make people more satisfied with traffic flow (Xinhua, 2008).
Effects on environment
Increasing congestion charge
It is believed that London's air quality has improved. Exhaust particulate matter (PM10) and oxides of nitrogen (NOx) are two major emissions from vehicles. According to Travel in London Reports 5(2012:93), PM10 decreases by 12.4% from 2008 to 2010, which meets the extreme value of air quality. Furthermore, NOx also drop by 16.4% (ibid: 94). Data in Table 4 also shows that congestion charging may lead to improvement in air pollution since both emissions decline.
Table 4 PM10 Exhaust and NOx emissions from mobile sources in London

Source: Tfl Travel in London Reports 5(2012)
Increasing congestion price may possibly lead to fewer cars driving into central London, which will let out fewer emissions. Thus, it may have a positive influence on the environment.#p#分页标题#e#
Restrictions on car-driving
There are limited data about the influences of traffic restrictions on air pollution in London, but according to Zhang et al (2011:61), vehicle emissions during traffic restriction periods are lower in Beijing than those during non-restriction periods, which prove that traffic restriction is an effective way to reduce air pollutions, such as dust elements. According to Figure 4, the CO emission factors drop significantly.
Figure 4 Carbon emission factors change

Source: Westerdahl et al (2009:700)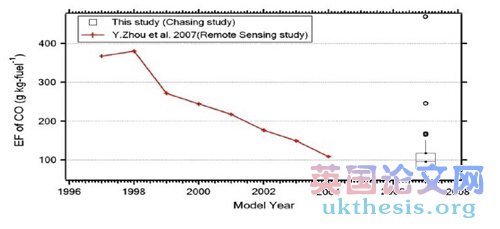 Furthermore, according to the study of air quality of Beijing in 2007 (Zhang et al, 2011:63), air pollution elements of both traffic restriction and non-restriction periods are analyzed, showing that the concentration ratios are less than 0.4, which approves the effectiveness of traffic restrictions on environment. Therefore, restrictions on car-driving can be effective in reducing air pollution in London.

JING CAI (Cindy)

(责任编辑:www.ukthesis.org)