The different stakeholders at Sainsbury have different interest and these interests do sometimes conflict or coincide. The shareholders are the owners of the business and like every other stakeholder needs the business to be successful and would gladly love that the dividend be higher than it currently is, that may mean that the managing team gets the supplied products cheaper, spend less in the running the organization, this will not go down well with the suppliers, who are also looking for maximum profit, this is turn will affect the staff who would not mind a pay increase. Sainsbury customer goal is "to make all our customers' lives easier every day by offering great quality and service at fair prices" J Sainsbury (2014) If the organization loses focus of this goal and goes for maximum profit, it will begin to lose its competitive edge and advantage and ultimately loose customers, which will affect the community and its economic standing in Britain.
The power and the influence of the stakeholders cannot be underplayed, that's one of the reasons Sainsbury has a good relationship with each of these stakeholders, the organizations investment in training of its suppliers points to this truth, over 80million pounds was awarded to staff, Sainsbury committee initiative and constant assistance to its community is the organizations way of telling the stakeholders, internal or external that Sainsbury recognizes their influence
Stakeholders: Sainsbury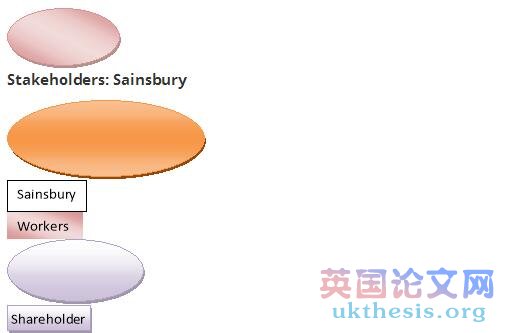 Figure 1
Conclusion
Sainsbury's goal and vision informs its operational activities towards its suppliers, community and other stakeholders. Its vision "to be the most trusted retailer, where people love to work and shop" motivates its stand on integrity, ethics and excellence. It also motivates its involvement in society fulfilling its goal "to make all our customers' lives easier every day by offering great quality and service at fair prices". Sainsbury's long term strategy continues to convey quality, worth and service and has led to good earnings and sales growth over the years.
J Sainsbury proposed 17.3p full year dividend, which is an upward move by 3.6% according to its annual report, (2014). This is a picture of the organization growing annually.
This report has taken a closer look at the Sainsbury stakeholders and how they add to the Sainsbury story, also in this report we see Sainsbury adding value to and this value couldn't be possible but for the 161,000 thousand men and women whose hard work, smiling faces and dedication keep the Sainsbury wheel moving.
TASK 2(责任编辑:quanlei_cai)