The second part of this task will carry out an analysis of the competitive forces that exist within the industry that Sainsbury operates using Porters five forces. Looking at all the relevant terms and be able to draw conclusions relevant to the strategic approach at Sainsbury
The model of the Porter five forces was developed by Michael E. Porter in 1980. Ever since it has turned into an important tool used to analyze organizations industry structure in strategic processes. Porter's model says that the threats and opportunities from the external environment of an organization should be met by corporate strategy with a competitive edge, having knowledge of industry structures and how they constantly transform.
Porters 5 Forces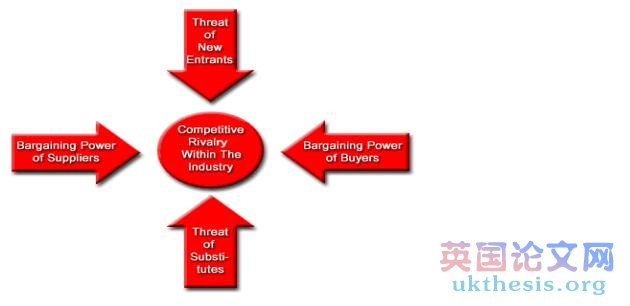 Adapted from investopedia.com Fig 2
Porters five forces helps us to discover who has the most powerful advantage in a situation, therefore we can effectively analyze and be able to know if a service or product will be profitable
The five Porters forces are supplier power, buyer power, competitive rivalry, the threat of substitutes, and the threat of new entry.
For Sainsbury the first of the five forces is
Competitive Rivalry: it's the characteristics of organizations in the same industry. In a vast industry that has other retail giant as Tesco and Asda, Sainsbury's ability to have competitive advantage is important. The retail industry in UK is a very mature one, the competitive rivalry is high, the giants Asda, Sainsbury, Tesco all battle for the same market and the competition can be brutal
"The supermarket industry in the UK is a good illustration of extremely fierce competitive rivalry" Capon (2008)
Bargaining Power of Suppliers: Depending on the options available. When there are other suppliers of a product in any industry there is room to have bargaining power, but where suppliers are few they have the Bargaining Power. Because of the number of suppliers and the competition, the power of suppliers to dictate the price, if one supplier is proofing expensive there are others willing and ready to supply, so the supermarkets bargain hard to get the best prices is rather low
This is a major strategic decision for Sainsbury, though they have an advantage here, they still assist in the training of their suppliers , they set up a Technical Management Academy (TMA), established in 2006, this is in line with their strategic goal "…great quality and service at great prices" J Sainsbury (2013)
Threat of New Entrants: in the retail industry this threat does not exist, it is not an easy business to enter, with 592 supermarkets and a 798million pounds underlying profit before tax, J. Sainsbury (2014) any new entrants is not much of a threat.(责任编辑:quanlei_cai)