1.1 Background背景
性别工资差距是男女工资的差异,是基于所有员工的平均小时工资的平均差异。 平均来说,欧盟女性比男性1小时少赚16%左右。性别工资差距在一生中的作用是什么?性别工资差距的影响意味着女性在她们的一生中挣得更少,这会导致较低的养老金和老年人的贫困风险。2012,21.7%岁以上的妇女中有65处于贫困风险,而男性占16.3%。使用每小时的工资为基础计算的性别工资差距也可以掩盖具体工资的差异,没有记录,例如,奖金,绩效工资或季节性付款。这就很容易造成男女工资不平等。
The gender pay gap is the difference between men's and women's pay, based on the average difference in gross hourly earnings of all employees. On average, women in the EU earn around 16 % less per hour than men .What is the effect of the gender pay gap over a lifetime? The impact of the gender pay gap means that women earn less over their lifetimes; this results in lower pensions and a risk of poverty in old age. In 2012, 21.7 % of women aged 65 and over were at risk of poverty, compared to 16.3 % of men. Using hourly pay as a basis for calculating the gender pay gap can also mask specific differences in pay that go unrecorded, for example, bonus payments, performance-related pay or seasonal payments.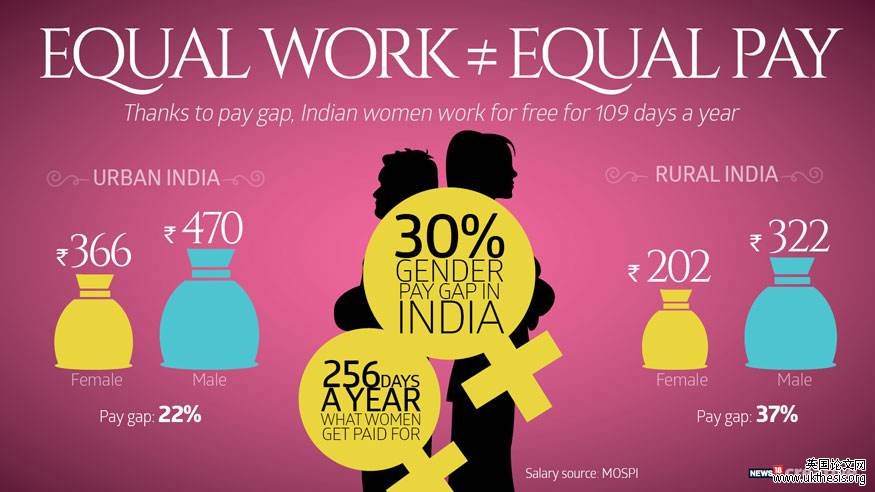 图:gender pay gap
1.2 Gender equality in wages工资性别平等
性别角色与传统性别角色和传统从一个很早的年龄塑造妇女和男人在社会中的角色。传统和性别角色可能会影响,例如,一个年轻的男人或女人采取的教育路径的选择。这些决定受传统的价值观和工作模式的假设。研究表明,女性在高级职位的典型"女性"的职业报酬大大低于女性工作在顶部的典型"男性"的职业生涯。平衡工作和家庭责任妇女工作更短的时间和经常兼职为了把他们的家庭责任和有偿工作。
Gender roles and traditions Gender roles and traditions shape women's and men's roles in society from a very early age. Traditions and gender roles may influence, for example, the choice of educational path taken by a young man or woman. These decisions are affected by traditional values and assumptions about working patterns. Research shows that women in senior positions in typically 'feminine' careers are paid substantially less than women working at the top in typically 'masculine' careers .Balancing work and family responsibilities Women work shorter hours and often part-time in order to combine their family responsibilities with paid work.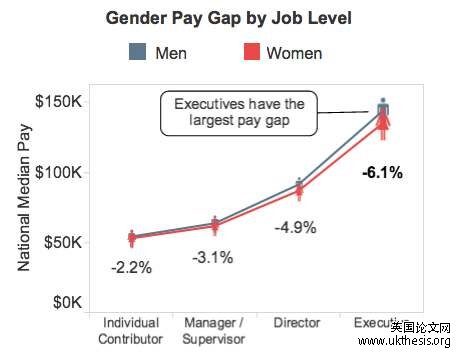 #p#分页标题#e#
图:gender pay gap by job level
妇女在工作中取得进步和获得更高薪水的机会也受到家庭责任的影响。当妇女生孩子和打工时,性别差距会扩大。女性从事家务和护理工作的时间比男性多,很少有人选择产假或兼职。虽然男性工作时间比女性在工作场所,如果妇女的报酬和无偿工作时间相结合,他们明显长于男性。
Opportunities for women to progress in their jobs and receive higher pay are also affected by their family responsibilities. The gender pay gap widens when women have children and when they work part-time. Women spend more time than men carrying out domestic and care work, and few men take parental leave or work part-time. While men work longer hours than women in the workplace, if women's paid and unpaid working hours are combined they are significantly longer than men's.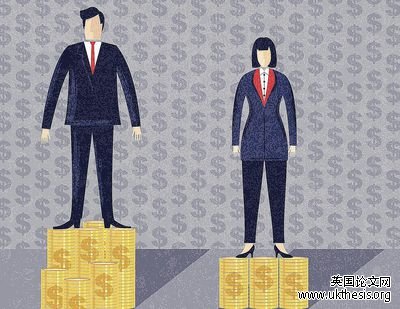 图:gender pay gap
1.3 Introduction and enforcement of laws
Gender equality plans in companies and audits to reduce the gender pay gap Gender equality plans and audits enable companies to measure their progress in implementing gender equality and equal pay. In some cases there is a legislative requirement to carry out the plans, while in others it is voluntary.

In Sweden, the 2009 Discrimination Act 17 requires employers and employees to endeavour to equalise and prevent differences in pay and other terms of employment between women and men who perform work which is to be regarded as equal or of equal value. They are also supposed to promote equal pay growth opportunities for women and men. Finally, the Act requires employers to carry out a pay survey every three years in order to detect, remedy, and prevent unjustified differences between women and men's pay, terms and conditions of employment, and draw up an equal pay action plan (if employing 25 or more workers).

In Austria, the National Action Plan for Gender Equality in the Labour Marketincludes a compulsory requirement for companies to publish equal pay reports. Companies have to draw up staff income reports every two years. The reports must show the number of men and women classified under each category as well as the average or median income, adjusted for working time, for women and men in the respective category. The goal is to create income transparency and take measures to reduce gender pay gaps. The equal pay reports are compulsory for companies with more than 1 000 employees from 2011 for the year 2010, for companies with more than 500 employees since 2012, for companies with more than 250 employees in 2013 and with more than 150 employees in 2014.