The Management argument is since the issue is being functioning in Quality checking division since in long time, the reasons might get change regarding to de-motivation on time to time. Hence the data gather validity will be taken as one year period where it might have possibilities to change into different reasons.
The ABC Company has found out the de-motivation may impact on employee performance especially in the category of quality checking operational level employees. The ABC hierarchy as follows.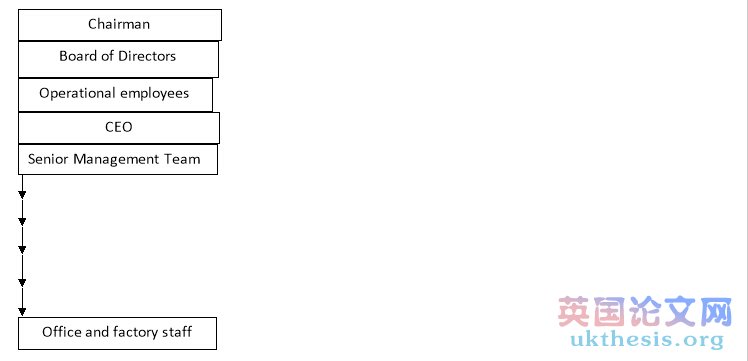 The whole employees which attached to the first five levels were excluded and only quality checking operational level employees will get included to avoid the making research study too complex with results.
The assessment of research study of "Impact of employee motivation on employee performance" empirically done on following factors.
Monetary benefits
Employee recognition
Training and development
Supervision
Job security
1.6 LIMITATIONS OF THE RESEARCH
Due to the scope and significance of research topic of "A study on the impact of employee motivation on employee performance special reference to the ABC company operational employees" following reasons were found as limitations of the study.
Research study limited to the Quality checking operational level of employees.
Research study covers with only five variable factors (monetary benefits, employee recognition, training & development, supervision and job security)
Employees reluctant to give information and relevant facts due to the personal issues.
Data gathered from ABC Company production division- quality checking.
The sources of data obtained could be limited due to data secure.
Lack of knowledge and poor understanding towards filling questionnaire.
There are several factors affecting on employee performance, but in this research study only considered on employee motivation.
Therefore, above mentioned limitations can be seen when conducting the research study.
1.7 METHODOLOGY
Sample population
Simple random sampling technique will be used to collect the entities of sample where it gives the equal opportunity to the items to be selected to the sample. Therefore, the ABC company population is considered with 50 employees and sample will contain with 44 operational employees as per according to the research study.
Primary Data
The primary data will gathered through Structured Questionnaires on Likert scale and were distributing among 44 operational employees of ABC Company by using simple random sampling technique and Observations.(责任编辑:cinq)